Filtering Surfaces (3-D)
| | | |
| --- | --- | --- |
| Prev | Normal Surfaces and Hypersurfaces |   Next |
Large triangulations often contain a great many "junk surfaces", and it is sometimes desirable to restrict a long normal surface list to just those surfaces that satisfy some simple constraints. For surfaces within 3-manifold triangulations, Regina allows you to do this using surface filters.
You can create filters based on simple tests (such as orientability, boundary or Euler characteristic), and you can combine filters into complex boolean expressions. Each filter is stored as a separate packet in the packet tree.
To apply a filter to a normal surface list, simply choose the filter from the drop-down box above the coordinate viewer. The table of surfaces will immediately shrink to include only those surfaces that pass the selected filter. To remove the filter, select None from the drop-down box.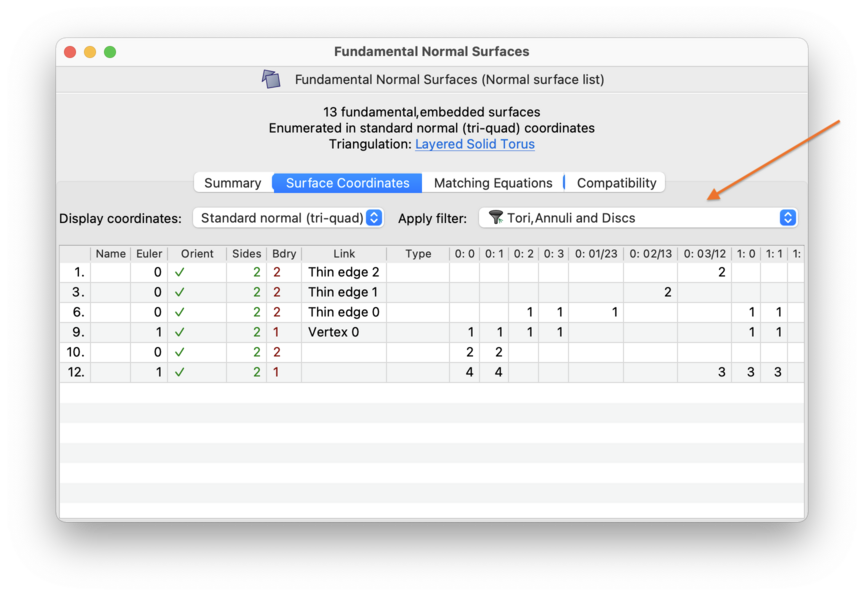 Filtering a surface list only affects how you view it: the underlying list is not changed. Moreover, only the coordinate viewer will be filtered—other tabs (such as the summary tab or compatility matrices) will be unaffected.